Organizers
Details
Product Features
Spiral bound has slim profile, lies flat for ease of writing.
Classy linen look cover is both durable and attractive.
White paper with soft green ink lines and black accents
12 months of Planner Pad planning system.
Choice of quarterly start date:
Jan, April, July or Oct
Executive size - 8 ½" x 11"
Dated formats - you pick quarter start date
January
April
July
October
...and your name in gold.
Handsome gold foil hot stamped imprint. We will use upper and lowercase letters. Your name in gold adds an impressive look. Your job title or company name will require separate lines.
Set in 20 point Goudy type. Letters won't rub off or fade.
Gold foil imprint per line, only $3.50
You will be prompted for your imprint when you order a Planner Pad organizer.
It's your complete, single-source reference.
Look at all you get...
52 Weeks of Increased Productivity Planning
See all your plans for the entire week on two pages. Helps you think in a logical order. Makes it easy to decide what deserves your attention. Funnels events from idea stage to point of action. A productive work flow is established. You work smarter.
Goals/Projects Section
Helps you capture goals, track results, and collect ideas.
Month Calendar Page
Monthly calendar and note page at the beginning of each month (dated Editions only).
Forward Planning Calendars
Schedule a full year of important activity on a two page spread. You get the current calendar year, plus next two years. Great for planning meetings, deadlines, special projects and vacation time.
Time Zone Map
Plan effective long distance calls and schedule your travel.
Important Phone Numbers Section
Keeps your phone numbers "field ready." Gives you a quick reference to frequently called clients, friends and business places. Includes space for area codes and addresses, too.
Holidays Page
Three year special events calendar for the current year and two years forward. Shows National holidays plus important Christian and Jewish observances.
Handy Business Expense Record
There's space to show your expenses each week. Makes it easy to relate expenses to the event causing it. Creates valid evidence for tax purposes or employer reimbursement. A permanent record for future reference.
Discover the Planner Pad Organizer Difference
Compared to ordinary calendars, planners, and other organizing systems, the Planner Pad organizer's exclusive 3-tier design funnels your focus to help identify, manage, and accomplish things that matter most to you both at work and in your personal life.
Each weekly 2-page spread gives you plenty of space to:
Categorize what needs to be done now and in the future
Prioritize daily things to do and then
Schedule specific times to get things done including activities, meetings, and appointments
A single organizing tool that balances all of your goals and activities 7 days a week.
Works like a funnel
to find priorities, organize work flow, and plan personal activities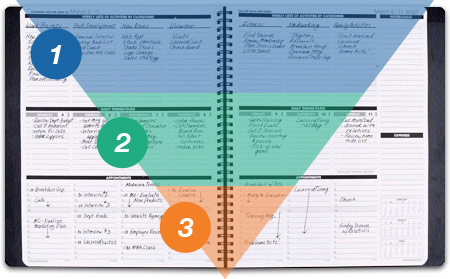 The top section replaces to-do lists and sticky notes. This is the "Project Warehouse" - a place where you can organize all business and personal activities by categories that you choose. The horizontal layout gives you maximum visibility making it easy to group like activities and see all that needs to be accomplished ...CATEGORIZE
The middle section is your daily activity plan. Funnel down things that need attention during week and are a priority from the top section. Assign specific days for action ...PRIORITIZE
The lower section is your "appointment book." Schedule time for you to work on projects from middle section and to get things done. Schedule people to see, meetings to attend, and personal activities...SCHEDULE
With the Planner Pad system, you've funneled down all those tasks that were placing such a burden of stress on your life and broken them down into easily manageable tasks.