Details
The Desk Edition is a large blotter size pad of 52 undated sheets. It's big - 17 by 22 inches. Needs space on your desk and is not portable. Most prefer book style, but we sell lots of these. Provides high visibility for your entire office.
It's your complete, single-source reference.
Look at all you get...
52 Weeks of Increased Productivity Planning
See all your plans for the entire week on one large page. Helps you think in a logical order. Makes it easy to decide what deserves your attention. Funnels events from idea stage to point of action. A productive work flow is established. You work smarter.
Handy Business Expense Record
There's space to show your expenses each week. Makes it easy to relate expenses to the event causing it. Creates valid evidence for tax purposes or employer reimbursement. A permanent record for future reference.
Forward Planning Calendars
You get the current calendar year, plus next two years. Great for planning meetings, deadlines, special projects and vacation time.
Discover the Planner Pad Organizer Difference
Compared to ordinary calendars, planners, and other organizing systems, the Planner Pad organizer's exclusive 3-tier design funnels your focus to help identify, manage, and accomplish things that matter most to you both at work and in your personal life.
Each weekly 2-page spread gives you plenty of space to:
Categorize what needs to be done now and in the future
Prioritize daily things to do and then
Schedule specific times to get things done including activities, meetings, and appointments
A single organizing tool that balances all of your goals and activities 7 days a week.
Works like a funnel
to find priorities, organize work flow, and plan personal activities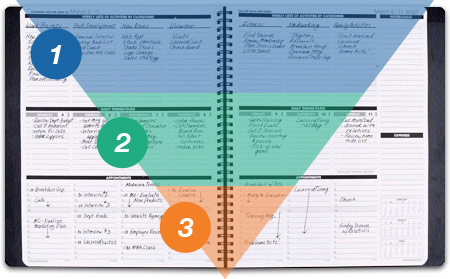 The top section replaces to-do lists and sticky notes. This is the "Project Warehouse" - a place where you can organize all business and personal activities by categories that you choose. The horizontal layout gives you maximum visibility making it easy to group like activities and see all that needs to be accomplished ...CATEGORIZE
The middle section is your daily activity plan. Funnel down things that need attention during week and are a priority from the top section. Assign specific days for action ...PRIORITIZE
The lower section is your "appointment book." Schedule time for you to work on projects from middle section and to get things done. Schedule people to see, meetings to attend, and personal activities...SCHEDULE
With the Planner Pad system, you've funneled down all those tasks that were placing such a burden of stress on your life and broken them down into easily manageable tasks.